Mrs. Kostyniuk – Grade 10/11 Homeroom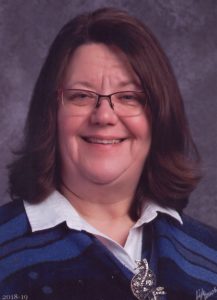 Hello, St. Louis!  I am Mrs. K and I started teaching in St. Louis in the 1996-97 school year.  Prior to that, I taught in Wakaw, Bruno, Arborfield, and Hudson Bay.  I am now teaching second generation students at St. Louis Public School.
My course load this year included Grade 8 to 12 English Language Arts, Grade 8/9 Social Studies, History 30, Mental Health and Addictions 10, PAA Clothing 10 and 30, Native Studies 10, and Psychology 30.  I started using Google Classroom in the fall of 2019 and students were becoming very good at using it.  Thanks to Google Classroom, students have a place online where they can continue their learning as we deal with the new circumstances that we find ourselves in.  This virtual classroom allows students to feel connected to their teachers and their school community and gives them the opportunity to develop life-long learning skills.
You are most welcome to contact me with your questions or concerns at vkostyniuk@srsd119.ca.
Keep well!