AAA – January
Our AAA assembly was held on January 11 was a chance to recognize the hard work of our students.  We also enjoyed a game of Ultimate Rock, Paper, Scissors and the grade 9s organized a Tug-o-war tournament.
Christmas Dinner
December 20th was the date of our annual Christmas Dinner, organized by our SCC and Mrs. Kuppenbender.  This year we also presented our Legion Poster and Poetry winners and had a lip synch contest.
Guest Speaker
On December 17 Nina Reynolds from the Regional Newcomer Centre spoke to our grade 5-12 students about her experience as an immigrant and how the Centre helps people who move to Prince Albert and Area (both from within Saskatchewan and abroad).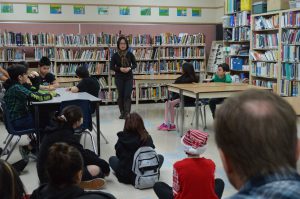 Winter Wonderland
The Winter Wonderland took place on December 12.  Events included sleigh rides, singing by the fire, sliding on the hill, and pictures with Santa.  The weather was warm and it was great to see so many people.

Basketball
Basketball season is underway.  This year we are represented by both a 5/6 and 7/8 team.  Our Senior Girls and Senor Boys are both on co-op teams, the girls with PACI and the boys with Carlton.
Hour of Code
Grade 3-12 students had the opportunity to participate in an Hour of Code this week.  This is an activity that teaches basic computer programming skills.  Stay tuned for future coding opportunities.