St. Louis Public School Remembers
On Thursday, November 7, students, staff and community members commemorated Canada's heroes who fought for our freedom. We would like to thank Mrs. Kostyniuk and the SRC for organizing our Remembrance Day service, and to the Wakaw Legion members and other special guests for being in attendance.
Spooktacular week at St. Louis Public School
This week we celebrated Halloween with our Wednesday evenings dance for Grades 4 to 12. On Thursday, students from Kindergarten to Grade 3 participated in the Costume Parade and a short dance that followed. Great job everyone with your creative costumes and thank you to our SRC for hosting our dance!
Education Week at St. Louis Public School
October 21

st

to October 25

th

/ 2019
St. Louis Public School was very busy this past week with many exciting activities occurring daily. We kick started our week by recognizing our bus drivers Bev Parent, Dustin Lussier and Lionel Lepine for everything that they do. Students gifted our bus drivers and gave them a memento to show their appreciation. Also on Monday, students enjoyed a school wide Math Blast where students played educational math games with one another. On Tuesday, students enjoyed hearing traditional Indigenous teachings from One Arrow Elder, Stewart Prosper. Wednesday students from Pre- Kindergarten through to Grade 6 "Dressed for Success", while Grades 7 through 12 attended the Opening Doors to Tomorrow career fair. On Thursday children's author Peter Eyvindson visited the school and presented stories from many of his popular books, followed later with students participating in a reading in the dark activity. Lastly on Friday, St. Louis Volunteer Fire Department came to give a demonstration to our students. Paul Davidson shared with students the history of our local fire truck and how it was one of the trucks used during the tragic 911 incident.
We would like to thank everyone who was involved in St. Louis Public School's Education Week to benefit the educational success of our students.
Student Vote
Thursday, October 17th students from Grades 4 to Grade 12 took part in Student Vote. Student Vote is a resource created by Elections Canada which allows students to experience the voting process firsthand and it allows students how to be active and informed citizens. A big thanks to Mr. Dueck for organizing the polling stations in his classroom with his students.
Cross Country Extravaganza 2019
The Cross Country meet was Thursday, October 11th and it was a chilly but exciting day for all in attendance.
Congratulations to a great end of the year race to St. Louis Eagles cross country team. Hip hip hooray to our atom boys runner, Cody Caron and our bantam boys runner, Brydon Boyer.
Brydon achieved a 10th place ribbon this afternoon with a total of 22 runners in his flight! 
Great job to both our boys for supporting each other!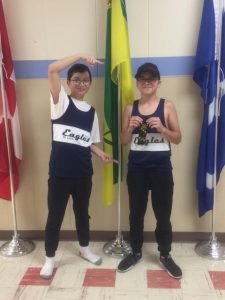 Every Child Matters- Orange Shirt Day at St. Public School
St. Louis Public School wearing their orange shirts in remembrance of the survivors and victims of the residential school system.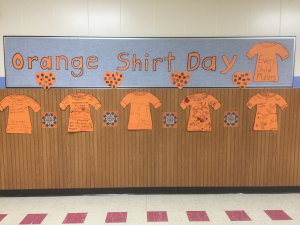 Here's to another awesome school year.
"Together we can Soar"
Our opening assembly was organized by our S.R.C. members who did an awesome job.