Happy Retirement to our dear Mrs. Alice Finnestad
The staff of St. Louis Public School surprised Mrs. Alice Finnestad with a retirement party on May 29. At 4pm a parade of vehicles drove into Mrs. Finnestad's yard, honking horns and holding signs. We safely celebrated Alice's retirement at a physical distance and presented her with a memory quilt displaying her cherished family and many more memorable life moments. After working for 22 years at St. Louis Public School the staff wish Mrs. Finnestad a happy, healthy and wonderful retirement.
Update: Wednesday, April 29/2020
The staff at St. Louis Public School would like to send our well wishes to our families and students in hopes that this update finds you all safe and healthy.
Please see the new registration tab above on our school website to register your son/daughter for the 2020-2021 school year.
Current St. Louis Public School students need not re-register.
If your son/daughter require busing transportation, please fill out the bus request form.
We have also added a COVID-19 tab for additional supports and information for students, families and guardians.
Take care.
If you should have any questions, please email us.
Mr. Nelson- Principal                jnelson@srsd119.ca
Ms. Broome- Vice Principal       dbroome@srsd119.ca
Mrs. Finnestad- Secretary         afinnestad@srsd119.ca 
Dear St. Louis Public School Families,
Thank you for the amazing support you have provided to our schools and our staff during this uncertain time. It is during these challenging times that it becomes so clear the importance of relationship and understanding. Thank you for your care and encouragement.
You will know that classes have been suspended indefinitely starting March 20, 2020. We would like to know how long this suspension will last, but we do not have that information. In the meantime, we still have an obligation to have parent teacher interviews in a form that works given the circumstances, after March 30.
You will see an attached email list of your child's teachers. Please feel free to email them any questions, concerns, or praise between March 30th and April 2nd and your child's teacher will respond on April 2nd between the hours of 3:30 and 8:30.
Thank you for your support during this challenging time.
Yours in Education,
Jaret Nelson                                              Dianne Broome
Pam Aitken – Paitken@srsd119.ca
Christie Braaten-Ernst – Cbraaten-Ernst@srsd119.ca
Dianne Broome – Dbroome@srsd119.ca
Josh Dueck- Jdueck@srsd119.ca
Beverly Hunter – Bhunter@srsd119.ca
Virginia Kostyniuk – Vkostyniuk@srsd119.ca
Jaret Nelson – Jnelson@srsd119.ca
Bonnie Olexsyn – BOlexsyn@srsd119.ca
Angela Rancourt – Arancourt@srsd119.ca
Bill Wilkinson – WWilkinson@srsd119.ca
Letter to Parents and Guardians of St. Louis Public School students
Tuesday, March 17/2020
Dear Parents and Guardians:
       Yesterday, the Government of Saskatchewan announced that all classes in Saskatchewan PreK-12 Schools will be suspended indefinitely, effective March 20, due to the ongoing COVID-19 pandemic.
       For the period of March 16 to March 19, pre K-12 classes will wind down.  This means that parents who are able to keep children home should do so immediately, with no absence or grade impacts. St. Louis Public School will be open this week for regular school hours until Thursday, March 19. Students are not required to attend these days but our encouraged to arrange to come pick up all of their belongings (clean out their desks/lockers). Please notify the office when you enter and leave our building. We would also ask that students please bring back library books, textbooks or any other school related resources that they may have before Thursday, March 19.
       Our Wapiti ski trip has been cancelled, we will send out reimbursements in the mail within the next few weeks.
       At this time we do not know when or if we will be returning this school year of 2019-2020. The government announced that every student will receive a final grade based on their current grade, and students will progress to their next grade level next year.  Every student who is eligible to graduate from Grade 12 this year will graduate.  The Ministry of Education and School Divisions will work with Saskatchewan Post-Secondary Institutions to adapt entry requirements for programs commencing in the next academic year.
            If you have any questions in regards to COVID 19 please refer to https://www.saskatchewan.ca/coronavirus.
            If you have any questions about education or St. Louis Public School please call the office at 306-422-8511.
Sincerely,
Mr. Jaret Nelson-Principal                  Ms. Dianne Broome- Vice-Principal
Pink Shirt Day with special guest, Saskatchewan Roughrider Jorgen Hus
On Wednesday, February 26 St. Louis Public School was fortunate to have a very special visitor to honor our Pink Shirt assembly. Jorgen Hus, Saskatchewan Roughrider and Red Cross Ambassador talked to students about ways to identify bullying and how to build healthy relationships. Thank you Jorgen Hus!
December Triple AAA Assembly
On Wednesday, December 4, St. Louis Public School gathered for their monthly Triple AAA awards assembly. Many students were recognized for perfect attendance, good academic standing and great attitudes for the month of November.
In the second half of our assembly, St. Louis Public School's SRC presented the 12 Days of Christmas Activities that will begin December 5 and carry through to December 20. A big thank you to the SRC and Mrs. Kostyniuk for organizing these activities for our school. The following days are listed.
Day 1- Thursday, December 5
           Wear your Red and Green Day
Day 2- Friday, December 6
           Ornament Colouring Competition
Day 3- Monday, December 9
           Fill the Christmas Stocking Day
Day 4- Tuesday, December 10
           Find Rudy Treasure Hunt
Day 5- Wednesday, December 11
           Reading a Christmas story and wear your Christmas socks
Day 6- Thursday, December 12
           Wear your Ugly Christmas sweater (Elf Shelf Store Opens)
Day 7- Friday, December 13
           Kristmas Kindness Day (Elf Shelf Store Closes)
Day 8- Monday, December 16
           Gingerbread House Decorating Day
Day 9- Tuesday, December 17
           Snow Day, Wear White
           Christmas Concert (Dress Rehearsal at 1pm, Concert at 7 pm)
Day 10- Wednesday, December 18
             Winter Wardrobe Day (wear toques, mitts, scarves)
Day 11- Thursday, December 19
             Formal Day (Christmas Dinner) plus classroom caroling
             competition and lip synching
Day 12- Friday, December 20
             Santa's in PJ's (wear PJ's and a Santa hat)
St. Louis Public School Remembers
On Thursday, November 7, students, staff and community members commemorated Canada's heroes who fought for our freedom. We would like to thank Mrs. Kostyniuk and the SRC for organizing our Remembrance Day service, and to the Wakaw Legion members and other special guests for being in attendance.
Spooktacular week at St. Louis Public School
This week we celebrated Halloween with our Wednesday evenings dance for Grades 4 to 12. On Thursday, students from Kindergarten to Grade 3 participated in the Costume Parade and a short dance that followed. Great job everyone with your creative costumes and thank you to our SRC for hosting our dance!
Education Week at St. Louis Public School
October 21

st

to October 25

th

/ 2019
St. Louis Public School was very busy this past week with many exciting activities occurring daily. We kick started our week by recognizing our bus drivers Bev Parent, Dustin Lussier and Lionel Lepine for everything that they do. Students gifted our bus drivers and gave them a memento to show their appreciation. Also on Monday, students enjoyed a school wide Math Blast where students played educational math games with one another. On Tuesday, students enjoyed hearing traditional Indigenous teachings from One Arrow Elder, Stewart Prosper. Wednesday students from Pre- Kindergarten through to Grade 6 "Dressed for Success", while Grades 7 through 12 attended the Opening Doors to Tomorrow career fair. On Thursday children's author Peter Eyvindson visited the school and presented stories from many of his popular books, followed later with students participating in a reading in the dark activity. Lastly on Friday, St. Louis Volunteer Fire Department came to give a demonstration to our students. Paul Davidson shared with students the history of our local fire truck and how it was one of the trucks used during the tragic 911 incident.
We would like to thank everyone who was involved in St. Louis Public School's Education Week to benefit the educational success of our students.
Student Vote
Thursday, October 17th students from Grades 4 to Grade 12 took part in Student Vote. Student Vote is a resource created by Elections Canada which allows students to experience the voting process firsthand and it allows students how to be active and informed citizens. A big thanks to Mr. Dueck for organizing the polling stations in his classroom with his students.
Cross Country Extravaganza 2019
The Cross Country meet was Thursday, October 11th and it was a chilly but exciting day for all in attendance.
Congratulations to a great end of the year race to St. Louis Eagles cross country team. Hip hip hooray to our atom boys runner, Cody Caron and our bantam boys runner, Brydon Boyer.
Brydon achieved a 10th place ribbon this afternoon with a total of 22 runners in his flight! 
Great job to both our boys for supporting each other!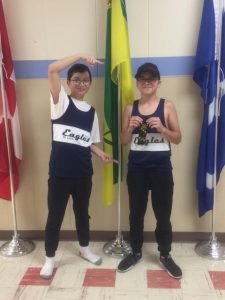 Every Child Matters- Orange Shirt Day at St. Public School
St. Louis Public School wearing their orange shirts in remembrance of the survivors and victims of the residential school system.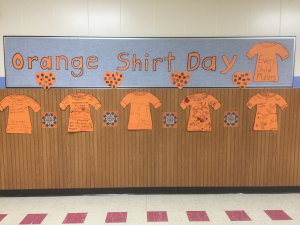 Here's to another awesome school year.
"Together we can Soar"
Our opening assembly was organized by our S.R.C. members who did an awesome job.