Happy Retirement Mrs. Petit and Mrs. Potter
We are sad to say that we will be losing two members of our school community as Mrs. Petit and Mrs. Potter will both be retiring at the end of June.  Mrs. Petit is leaving us after 28 years of service, in which she filled many roles and touched the lives of most of the families in our community.  Mrs. Potter, who drove a school bus for 25 years, will be parking her bus for the last time at the end of the month.  We wish them both the best as they embark on the next stage in their lives.
Mrs. Petit being presented with tokens of gratitude from the PAATA and the SRC.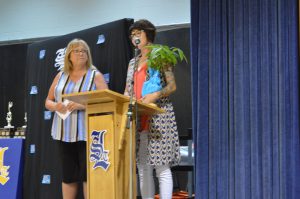 Mrs. Potter speaking to the students at the Awards Assembly.
Departing Staff
Mrs. Sanderson and Mrs. Chester will both be leaving SLPS to work at other schools next year.  Mrs. Sanderson will be teaching in Birch Hills and Mrs. Chester will be working as an EA at Queen Mary school in PA.  We hope they enjoy their new postings and will miss their contributions to our school.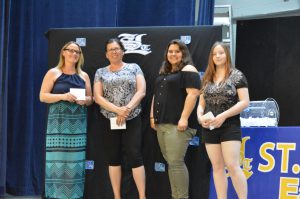 Celebrating A Year's Worth of Achievement
On Thursday, June 20 we had an opportunity to celebrate many different achievements that have occurred in our school community this year and to recognize the hard work of our students.  Awards were presented in academics, attendance, sports & activities, and leadership.  We finished off our celebration in the evening with our annual Academic Excellence Banquet to recognize our honor roll students.  Dean Bernier and Gary Larson provided the entertainment and an inspirational message.
P4A Track & Field
SLPS was well represented at the elementary track meet in Prince Albert this year.  35 athletes in grades 5-8 competed with students from all across the Saskatchewan Rivers School Division.  Despite being very busy, and sometimes confusing, our athletes were able to attend their events and showed a high level of determination.
Duck Derby
The annual Duck Derby was held on May 23 and was a successful event again this year.  The money raised will pay for our new accelerator swing in the elementary playground.  This will be installed soon so keep your eyes open.  Our winners this year were:
1st Prize – Karen Elliot
2nd Prize – Stacey Daniels
3rd Prize – Kalina Nowaczek
50-50 – Alyshea Thomas
For a video link from the evening click here.
High School Track & Field
Dreton Vandale-Prosper competed in the SRSD City Track Meet on May 22/23.  He was top-three in our conference in three events and will now compete at Districts next week in Discus, Javelin, and 400m.  Great job Dreton!
Tipi Teachings
The grade 7/8 class have been learning about the tipi and what it represents to First Nations cultures.  Elder Prosper was able to join us recently to share his wisdom.  We thank him for the gift of his knowledge.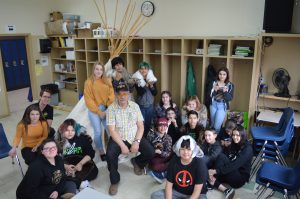 AAA – May
This month's AAA assembly was on May 3 with our grade 1/2 class providing the entertainment.  They presented a dance that they have been working on in class and then taught the whole school how to do the twist.  Congratulations to our winners.
Career Fair
The grade 11 and 12 students had an opportunity to examine different career opportunities during recent field trips to Prince Albert.  Thanks to Sask. Polytech for hosting our students.
Legal Eagles
On April 13 our Legal Eagles team took part in a mock trial competition at the Court of Queens Bench in Saskatoon.  Teams from across Saskatchewan took part and our school was represented by a strong group.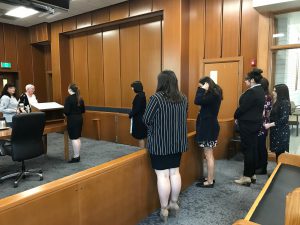 AAA Assembly – April edition
This month our AAA assembly was held on April 5.  The grade 7/8 class showcased the work they have been doing on social issues with a group who spoke about the importance of wearing seatbelts.  Our next assembly will be May 3 in period 2 (9:55).
Spring Fling Dance
The SRC hosted a dance on April 4 to help kick off spring at SLPS.  Congratulations to our prize winners.
Dawson – door prize
Monica – dance off
Lyla – limbo
Hunter – door prize
Julian – Spring King
Bree – Spring Queen
Brain Walk
On March 22 our students had the opportunity to experience a brainwalk, including 10 stations teaching about different topics that affect our brain.  Thanks to our grade 7-9 students for working the stations and the Saskatchewan North Acquired Brain Injury Services unit for providing the resources.