Ms. Broome – Vice Principal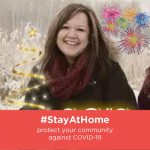 Hello to all families, guardians and students of St. Louis Public School. My name is Dianne Broome and I have currently been with St. Louis Public School since September of 2019. When I first heard the news that I was to be appointed to my first Vice Principalship at St. Louis Public School, I was excited and embraced this new endeavor. I have been teaching for 14 years, mainly in the middle years area before coming to St. Louis. Some of the past schools which I taught in were Stobart Community High School, Carlton Comprehensive High School, Osborne Public Elementary, and Westview Public Elementary.
Along with my duties as an administrator, my current assignment entails teaching in the areas of Grades 6 to 9. This year I have had the pleasure to teach Career Education 6 through 9, Social Studies 6/7 and Grade 8 Math.
This year with the return to school, we all wondered what our school day would look like. Mr. Nelson and I, along with all the staff have worked diligently to come up with a back to school Re-Entry plan. So far with the scheduling of staggered recesses, staggered entry and end of the day times, in order to minimize contact between people and cohorts, things have been operating fairly smoothly. Students have done an excellent job adapting to the new normal of our school day.
Along with teaching in my regular classroom, I have also began to use Google Classroom for the classes that I teach. Students and families can access these classes here using the links attached: Career Education 6/7, Career Education 8/9, Social Studies 6/7 and Math 8. All students in my classes have used the Google classroom platforms. If parents, guardians or students have inquiries, please don't hesitate to email me at dbroome@srsd119.ca.
I hope that everyone continues to be vigilant and safe during these unprecedented times.
Take care everyone,
Dianne Broome